The Yosemite Field station hosts a broad spectrum of university courses, public education events, and K-12 programs. Topic have included land management, environmental sustainability, water management history, outdoor arts, writing, and leadership.  The station facilities are ideal for classes, including a modern classroom, lodging for 55 people, office space, and meeting space.
Some of the programs at the field stations: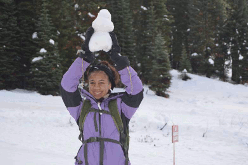 IYEL student experiences her first snow
California Naturalist Training - Students become certified California Naturalists through the UC Cooperative Extension Service. (not offered in 2020)
California Ecology and Conservation Course  - UC Undergraduates travel throughout California, utilizing the diverse UC Natural Reserve System. Students learn to notice natural patterns, frame questions into feasible research projects, and practice standard techniques such as surveys of animal and plant populations. 
Adventure-Risk-Challenge - This 6-week summer school program has been designed for motivated, high-level English Language Learner (ELL) students with leadership potential. ARC combines an intensive literacy focus with outdoor education: place-based, experiential curriculum. After the intensive summer program, ARC graduates follow through with service projects in their local communities. Graduates also assist with public outreach presentations & new student recruitment. ARC offers tutoring and reunion opportunities throughout their high school careers. Many ARC students are now leaders in their


Project WISE students enjoy a view from the top of Vernal Falls after learning about geology.

neighborhoods and are college-bound. These students are the first in their families to receive higher education.

Project WISE (Watersheds Inspiring Student Education) - Project WISE engages students from AP Environmental Science classes at Galileo Academy of Science and Technology, a public high school in San Francisco. In this year-long, place-based, student-centered program, youth learn about their impact on the natural world and realize their potential to become socially and environmentally engaged members of their communities. Utilizing the national parks as their classroom, students come to understand the human impact on the Bay Area ecology and conduct their own scientific investigations.
IYEL (Inspiring Young Emerging Leaders) -  I-YEL is a high school program that encourages, prepares, and challenges young people from diverse backgrounds to address environmental and social issues in their communities. Youth receive support and training to implement community projects and coordinate their own programs and activities. Through leadership development, career exploration, and goal-setting, I-YEL interns acquire the skills necessary to be the teachers and leaders of today and the future.
Environmental Sampling and Monitoring using R - The National Park Service hosted a course for park employees on rigorous sampling design and data analysis.